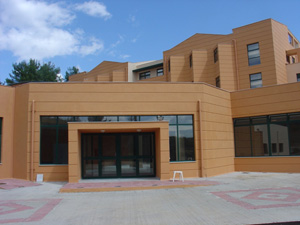 The Department of Economics constitutes the first department of the School of Economics and Management, which is located in the capital of Arcadia prefecture, Tripoli. The newly established School was founded in 2003 and is expected to host in the future the Department of Finance and the Department of Management. The Department of Economics aspires to become a modern academic centre that will enhance academic knowledge and scientific research.
The Department offers a range of courses which cover the fields of economics and finance as well as accounting, economic geography and regional growth. At the same time students have access to all modern means of education (computer laboratory, network connections, access in bases of economic data, specialized economic library etc) aiming at the more effective exploitation and application of their scientific knowledge.
The aim of the four year study is to educate future economists with strong personalities, who respect institutions and academic values. Successful students will emerge with an ability to think analytically which will stand to them in a range of employments. They can be expected to secure employment in public and private sector, banking and other financial services, as well as in economic consultancy and economic research.
The four year study also gives all the means to the students who plan to continue their studies in postgraduate programs and Ph.D.